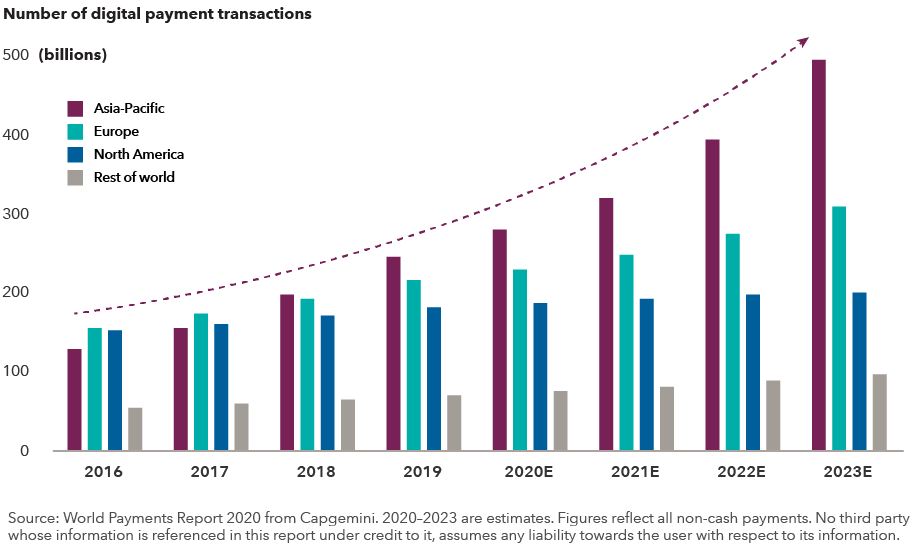 Simply put: Cash is no longer king, especially outside the U.S.
Innovation in digital payments has gained far more traction abroad. For example, in some emerging markets just a few years ago, many customers had no bank accounts, but they did have mobile phones — and that led to faster adoption of mobile payments. In China, Alipay (part of Ant Financial) and Tenpay (run by Tencent) are dominate players. Others also have emerged and experienced strong growth in demand for their services, including Yeahka in China and PagSeguro and StoneCo in Brazil, which offer mobile payment platforms for merchants.
The COVID-19 crisis has accelerated the use of mobile payments, not only in emerging markets but around the world, as consumers embrace the concept of "contactless" transactions. In the U.S., companies like Mastercard and PayPal are poised to benefit as consumers become increasingly comfortable with the technology.
"A decade from now, I think digital payments will be the norm and people will give you odd looks if you try to pay with cash," says Capital Group's equity portfolio manager Jody Jonsson.
Is your portfolio poised to benefit from international investing? Reach out. We offer a free second opinion service.