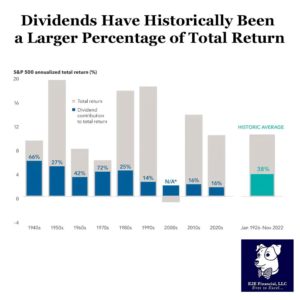 During the recent bull market, investors had to get one thing right: Recognize that leading U.S. internet companies with strong growth potential could generate the greatest returns.
In today's more volatile markets, with the cost of capital rising and investors less eager to pay up for high-multiple growth stocks, dividends are getting more attention. "We are at the start of what I expect will be a renewed and durable appreciation of the role dividends can play in investor portfolios," says Caroline Randall, a portfolio manager with Capital Group's Capital Income Builder® fund . "Going forward, dividends should be a more significant and stable contributor to total returns."
While dividends accounted for a slim 16% of total return for the S&P 500 Index in the 2010s, historically they have contributed 38% on average. In the inflationary 1970s they climbed to more than 70%. "When you expect growth in the single digits, dividends can give you a head start," Randall adds. "They may also offer a measure of downside protection when volatility rises."
Of course, not all dividends are created equal. During the pandemic, for example, many companies reduced or eliminated dividend payments. That is why it is essential to understand the sustainability of dividends and invest selectively, Randall notes. "I closely scrutinize company management actions to gauge how committed they are to maintaining and growing dividends over time."
Companies that have paid steady and above-market dividends can be found across the financial, energy, materials and health care sectors, among others. For example, UnitedHealth Group, the largest private provider of managed health care to Americans, has grown its dividend and likely will continue to do so even in a tougher economy, Randall says.
In many markets outside the U.S., dividends have historically made up an even bigger part of the investment landscape. As of October 31, 2022, about 600 companies headquartered in international and emerging markets, as measured by the MSCI All Country World ex USA Index, offered hefty dividend yields between 3% and 6%, compared to only 121 in the United States.
Need a second opinion on your portfolio? Reach out to schedule your complimentary Zoom review.