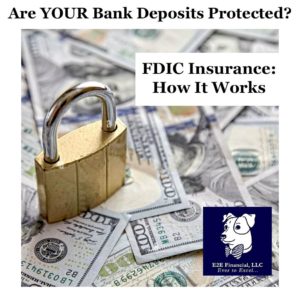 Given the news of the failure of Silicon Valley Bank (SVB) last week, I thought it good to review how the FDIC (Federal Deposit Insurance Corporation) insurance works to protect your bank accounts. FDIC insurance applies to accounts held at FDIC-insured banks only. The accounts types include:
Checking Accounts
Savings Accounts (both statement and passbook)
Money Market Deposit Accounts (MMDAs), and
Certificates of Deposit (CDs).
At any U.S. bank, accounts with balances up to $250,000 a person are protected. It is easy to make that $250,000 multiply, however, given there is coverage of $250,000 for each type of account at each bank. A married couple, for example, is eligible for $500,000 protection on a joint bank account and $250,000 for each of their individual accounts, for a total of $1 million in coverage at a single bank. Not sure how to calculate what FDIC insures in multiple accounts? Click here for a calculator.
Today, banks are much safer for consumers because of the FDIC and other financial regulations that require banks to hold more reserves, but it is still important that savers understand all of the risks, said Greg McBride, chief financial analyst at Bankrate.
Be sure to protect your deposits. And be sure you are earning the most you can on those deposits. Some FDIC insured banks are now offering up to 5% on your cash. We have a system, MaxMyInterest, to help you find those best rates, apply easily and maintain those rates. Sign up here.
Need a second opinion on your financial plan? Set up your free consultation with us.
Your weekly market update is here.
Source:  WSJ