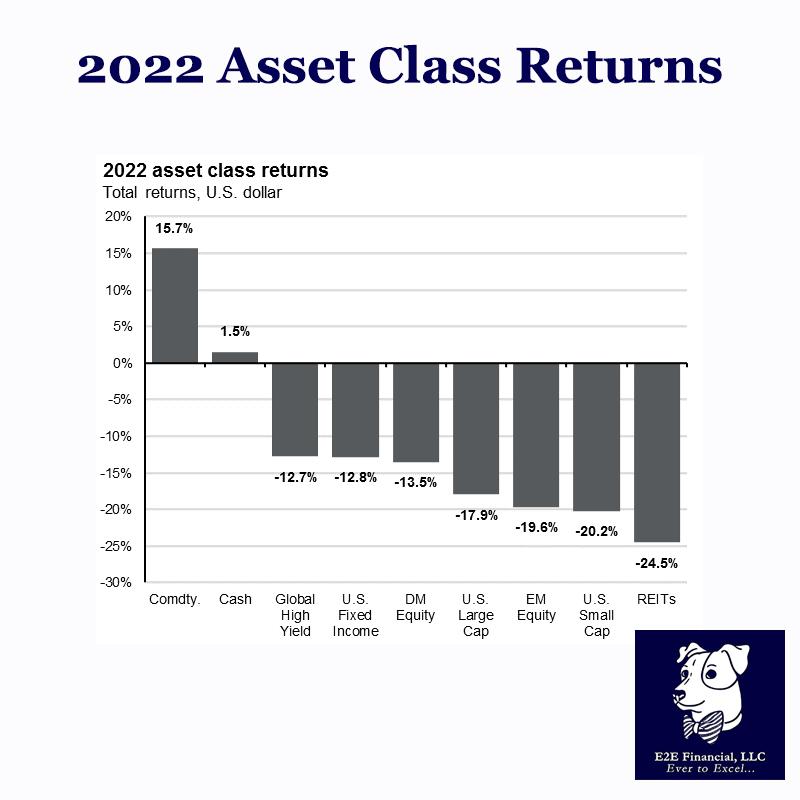 Happy 2023! We hope you've had a great start to the year. Reviewing 2022 investment markets, it was a tough year across the board. In terms of asset class performance, commodities led the way in 2022, as the conflict in Ukraine and only gradually improving supply chains boosted commodities prices. Equities struggled in 2022, primarily due to higher rates compressing valuations and a weakening outlook for corporate earnings amid recessionary fears. U.S large cap finished the year down 17.9%, while their small cap peers ended the year down 20.2%. REITs, which had a stellar 2021, felt the pain of tighter monetary policy and declined over 20%, as the demand for real estate cools.
In the international markets, DM equity and EM equity declined 13.5% and 19.6%, respectively. The bond markets felt the pressure of higher interest rates. U.S. fixed income markets finished the year down, as the Federal Reserve holds steady with its hawkish policy stance. Global high yield finished the year down as well, primarily due to a flight to quality and an increase in downgrades.
We, at E2E, do believe that staying invested is still the way to achieve your long term financial goals. Let us show you how. Reach out for a free investment review.
Make it a great start to 2023!